NexXx
a
o
posted
Dec 1, 16
THURSDAY NBA 12/1

YESTERDAY REVIEW:
Another great day yesterday! LET GO BIG TODAY. I love the slate. LETS MAKE SOME BIG MONEY BABY.

ALL LINEUPS POSTED HERE ARE DESIGNED FOR 50/50 CONTESTS
You can certainly cash in some GPPs with the lineups below.. But they are designed with ownership in mind to have the best cash rate in 50/50s. If you constantly enter more GPPs than 50/50s you will lose money here.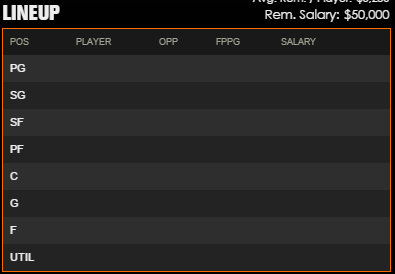 Lineup posted / updated at 6:55-6:56 EST
REMEMBER NBA is not for everybody.. You need to be here 5-10min before roster lock every day... This is not like MLB or NFL where you can check hours before hand to get your lineup in.. NBA is much different beast.. Articles are not posted until 5min before lock leaving you with sometimes only 3-4mins to read and get your picks in. I HIGHLYY SUGGEST PRE-ENTERING YOUR CONTESTS. DO NOT WAIT UNTIL I POST TO ENTER.
Alot of you are newer to DK so I made a tutorial on how to edit your lineups faster for NBA
Tutorial for Desktop Users Click Here
Tutorial for Mobile Users Click Here
NFL AGAIN THURSDAY